On April 15th, 2012 Fashion Takes Actions hosted an Eco Fashion Show, at the Green Living Show. It showcased the best eco-friendly designers in Toronto, as well as accessories, shoes and handbags. Booth #507 was buzzing the entire weekend, with clothes for sale on site, completely eco-friendly, made designers from all across the country. There was also a display with many of the green designer garments, allowing people to be able to view the clothing on a mannequin instead of on a hanger (that's if they missed the show!).
FTA is the only none profit sustainability organization in Canada (with a focus on fashion). They focus on educating people on what type of difference they could make by reducing their personal carbon footprint. With a pledge up on there website, it allows people to realize how many loads of laundry they do a week, or how it takes an obscene amount of water, just to create on cotton t-shirt. Fashion Takes Action also raises awareness about labor laws, waste, chemicals and toxic energy used by the fashion industry.
The founder of the FTA, Kelly Drennan, during the opening remarks of the Eco Fashion Show, admitted that it can be tough on wallets to be eco-friendly, her answer is to "buy second hand and vintage." Also she spoke about slow fashion and paying attention to the detail of a garment, "we need to slow down the production" (tailoring). And overall she summed it up saying, "As consumers, we need to slow down our consumption."
The Eco Fashion Show had make up done by Green Beauty and hair was styled by World Salon, both the greenest in their fields, in the Toronto area.
The designers in the show started with Aime, known as the queen of slow fashion in Canada. Local Buttons was 2nd, with vests made in Haiti, paying the seamstresses 5x minimum wage of the country. Yes Lifestyle Organics and Ayla also sent looks down the runway, showcasing the use of recycling fabrics and great organic clothing. Jool's had three looks which demonstrated upcycling, which is taking vintage clothing and making them look fashion forward. Pre-Loved showed three looks, which proved they were the pioneers in Canada when it comes to upcycling fashion.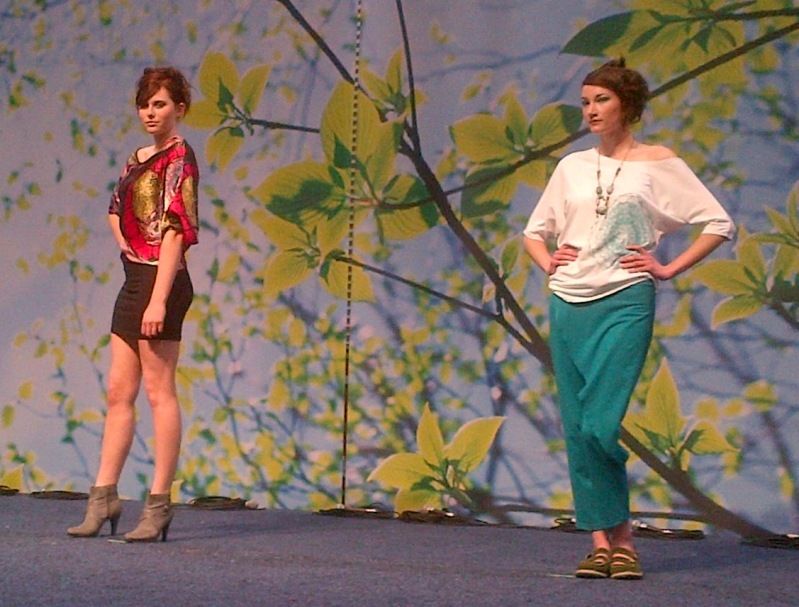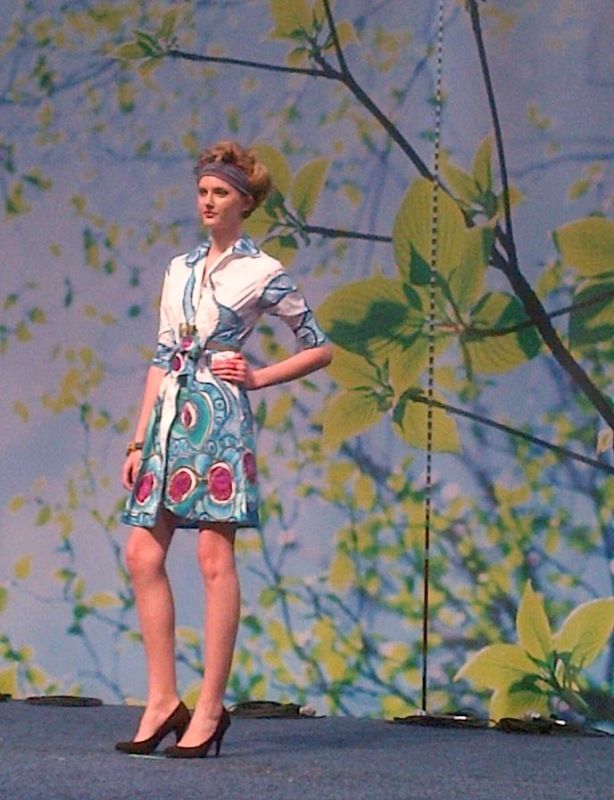 Device displayed their love for using sustainable fabrics in there three looks, with the use of bamboo and organic cotton, as well as reusing fabrics another designer is throwing out, to save it from the landfill. The 8th designer to send looks down the runway was Chartreuse Style, a well-known store in Toronto for eco-friendly fashion, with their location on Queen St W. Funky Buddha Yoga also sent down three looks, all made from organic cotton or bamboo material. The 10th and final look was by Ethik Eco Boutique, from Montreal, they help up and coming sustainable designers. Many of the shoes were provided by Shoe Rebels, a few bags provided by Totem and accessories by Eco Bling and Ayla.
The show was a success, and truly opened the eyes of many people as to, being eco-friendly, and sustainable is possible in fashion.